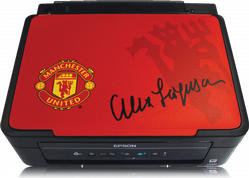 Epson XP205 Printer Manchester United Edition
Details
Printer, scanner and copier with user-friendly Wi-Fi, mobile printing and email print.

Epson XP205 A4 Printer, complete with 4 Ink Cartridges. This new CMYK A4 based printer offers superior speed and print quality. With adaptability with a CISS unit means that it can operate at a lower running cost overall.
The Epson Expression Home XP-205 is part of the Small-in-One range - Epson's smallest ever range of all-in-one home inkjets. This printer, scanner and copier offers cost-effective printing for users who are looking for the added benefit of Wi-Fi connectivity as well as mobile printing.
The Epson Expression Home XP-205 comes with Epson Connect, offering even more flexibility and freedom. It allows users to quickly and easily print documents and photos wirelessly from smartphones and tablet PCs. Additionally, users can print from anywhere in the world by emailing documents and photos directly to the printer. The XP-205 is Apple AirPrint ready and makes it simple to print emails, photos, web pages and documents directly from iOS devices. Meanwhile, Google Cloud Print is also supported and allows users to print on the go from a smartphone or computer.
The automatic Wi-Fi set-up makes configuring laptops and computers to print and scan wirelessly extremely easy. Users don't need to know their network settings or connect with a USB cable, the XP-205 automatically finds the relevant connection settings in order to configure itself.
Business Address: 3, Akinsemoyin Street, off Bode Thomas, Surulere, Lagos
|+234 (0) 8118882771 |+234 (0) 12952179 |Whatsapp +234 (0) 8118882771