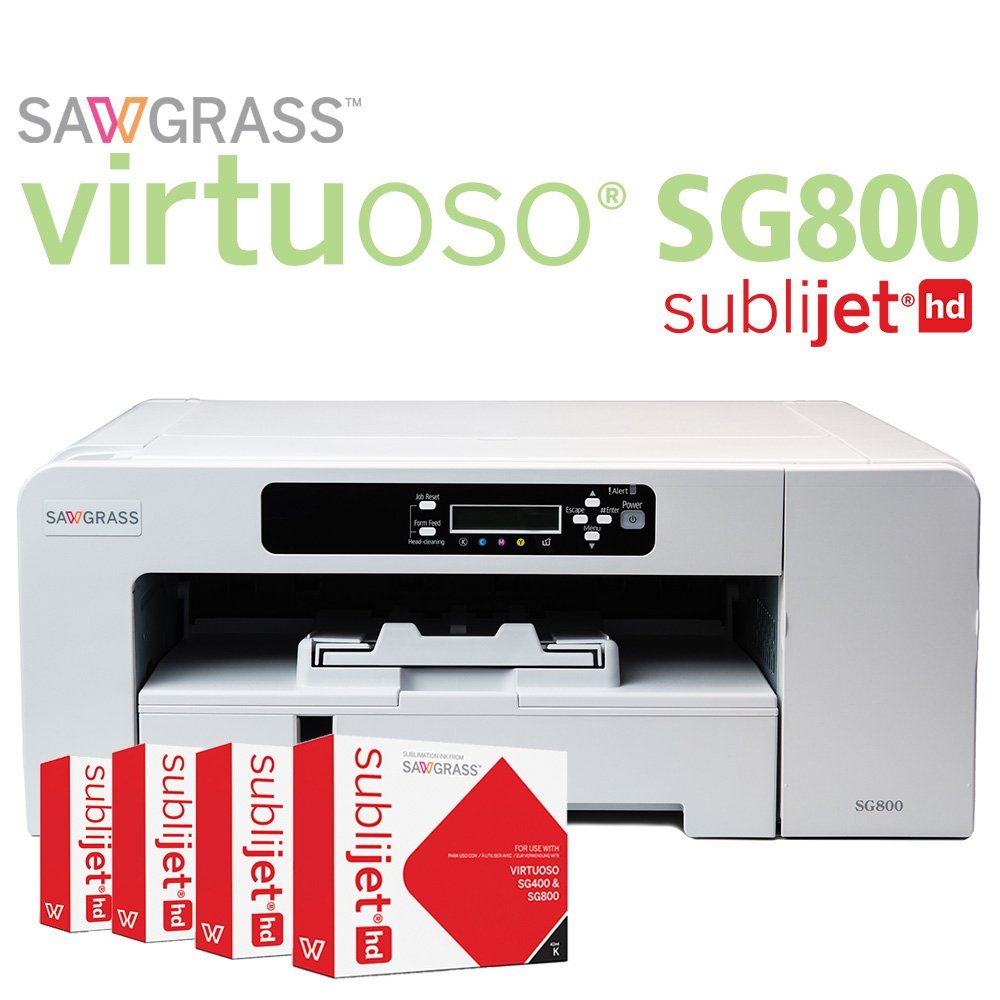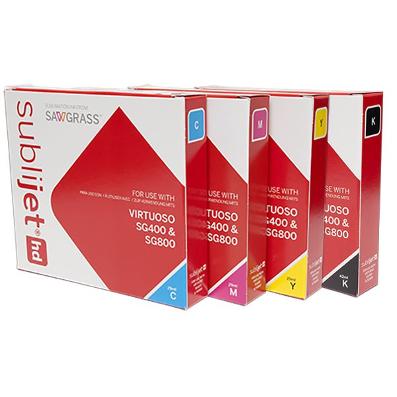 A3 SAWGRASS SG800 Sublimation Printer with 4 SubliJet-HD ink cartridges
Create like never before with Sawgrass' Virtuoso Desktop HD Product Decorating Systems featuring the Sawgrass SG400 (Letter, A4) and SG800 (Tabloid, A3) inkjet printers. Virtuoso is the industry's first and only fully integrated desktop system designed specifically for sublimation.

Imagine brighter, higher-definition images, with unsurpassed ease of use, support AND lower startup and imaging costs. Virtuoso delivers all this and more, taking the art of digital printing to its next evolution.

SG400 and SG800 Printers
The only desktop inkjet printers built specifically for digital decorating.
Faster throughput for greater productivity and profit potential.
Up to 1200 x 1200 dpi for dazzling HD photo-quality reproduction.
Includes 1-year warranty.
SubliJet-HD Ink
Newly formulated ink with higher yield and 26% larger colour gamut.
Wow your customers with more vibrant, accurate colours.
Lower imaging costs - More money in your pocket.
CreativeStudio
Easy-to-use Online Designer and Stock Design Library.
Create designs from your computer or tablet on any OS.
Hundreds of templates, thousands of images to choose from.
Virtuoso Print Manager included.
Full catalogue of sublimation blanks at your fingertips.
No desktop graphics software or clip art to buy.
Virtuoso Print Manager
Saves your customizable presets for use across multiple Virtuoso printers
Allows you to group different images or jobs together on the same page saving ink and paper
Supports both PC and Mac OS systems
BusinessBuilder
Free sales and marketing resources to help you start and grow your business.
Webinars, seminars and guides focusing on target markets, production and management.
PartnerPlus
Total system support for your printer, ink and software - all in one place!
Real time support online or over the phone.
Applications
Awards
Personalised Gifts
Promotional Products
Decorated Garments
Interior Signage
Substrate Compatibility
Virtuoso Desktop HD Product Decorating Systems enable you to decorate a wide variety of products made from polyester fabrics or polymer-coated rigid media including:
​Aluminium Panels and Inserts, Hardboard and Wood Plaques, Tile, Mugs, Acrylic, Glass, Slate, Polyester Fabric, Reinforced Fiberglass Plastic
Business Address: 3, Akinsemoyin Street, off Bode Thomas, Surulere, Lagos
|+234 (0) 8118882771 |+234 (0) 12952179 |Whatsapp +234 (0) 8118882771
sales@claytonprints.com